Here at Back In Action, we're dedicated to giving you the kind of care that gets you quickly back to your active lifestyle. Care that centers around one-on-one, hands-on techniques and tailor-made exercise programs delivered by expertly trained and licensed physical therapists.

At Back In Action, you won't be left alone during a visit or passed along to an assistant. In most cases, you'll see the same therapist at every visit - one who will get to know you and your needs. So your care will be that much more personalized and effective.

All in all, because of our dedication to cutting-edge therapy techniques and the comprehensive state -of-the-art facilities we have available, Back In Action can give you the kind of focused, customized treatment that accomplishes fast, powerful results.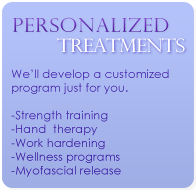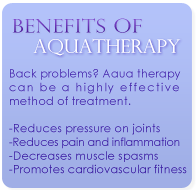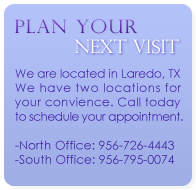 At Back In Action, our goal of getting good results quickly applies to vitrually a very condition or injury you may have. Here are just some of the conditions we treat:
Back and neck pain
Knee, arm & shoulder
Leg pain/sciatica
Hand injuries
Pregnancy back pain
Headaches
Sports injuries
Postsurgical rehab
Work injuries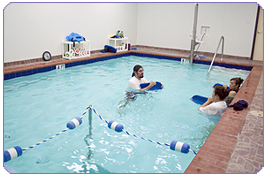 What you don't know can hurt you...
if you're an employer
Not only can we perform pre-placement examsthat let you know if prospective employees are fit for the job, but we can also lecture your personnel on injury prevention and make recommendations on how you can reduce employee accidents for a safer work.
if you're a physician
We communicater appropriately with all types of medical professionals to keep you informed of your patient;s progress. Simply put, we'll work with you to ensure your patients get optimum care fot ther pain and injuries.
if you're an attorney
We accept PIP and letters of protection. We manage your case budget to help ensure minimized fee cuts upon settlement. And Brett Tice is a qualified expert witness should such testimony be needed on your client's behalf.
if you're a patient
Nothing should prevent you from getting inmmediate care. We acceot most insurance -- including Medicare and Workers Comp. -- as well as PIP and letters of protection from your attorney. Uninsured? We keep fees competitive so you can get the care you need.